Hannes Müller
Student





Posts

: 173


Coins

: 102

Character sheet
Age: 16
Mutation: Thermal Manipulation
Status: judges you

---
"I am pretty sure that i am going blind" he mumbled, holding on to the asshole who caused this mess. "I am bleeding out" the german said his eyes closed without realizing it only using sounds to realize that he was in the hospital, making sure to hide his fce as much as possible by looking at the probably like..stone floor when he suddenly got out of his btrother's grip hving gravity pulling him down, causing him to fall on the now deffinitly stone floor, he puffed 'OUCH WHAT THE FUCK?! I AM DEFFINITLY DYING!" he said with half o his still bleeding mouth
Friedrich Fuchs
Teacher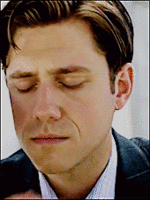 Name

: Izza


Location

: yeahhhhh ( ͡° ͜ʖ ͡°)


Age

: 14


Other accounts

: Sophie Smith, Feliciano Vargas, Dmitri Krylov


Posts

: 95


Coins

: 48

Character sheet
Age: 27
Mutation: Shapeshifting: Friedrich can change into a fox
Status: how does this status-thing work?

---
After a long car ride, they finally arrived at the hospital. His little brother held on to him, leaning on him, almost making Friedrich fall over. He sighed. "I am pretty sure that i am going blind" The teacher rolled his eyes. Hannes buried his face in his brothers coat, making it all dirty with blood. He quickly walked over to the reception, where a very annoyed lady sat. 'Excuse me,' She didn't react. 'Miss, excuse me.' The lady sighed and turned her eyes to meet his. 'What.' Friedrich lightly cursed under his breath. 'My brother needs a doctor, I think.' He looked at his arm, Hannes was no longer there. 'OUCH WHAT THE FUCK?! I AM DEFFINITLY DYING!" Friedrich quickly walked over to him. 'Dude, if I say you have to hold on to me, then hold on to me.'
_________________
Hannes Müller
Student





Posts

: 173


Coins

: 102

Character sheet
Age: 16
Mutation: Thermal Manipulation
Status: judges you

---
Hannes laid there swearing in at leat 5 languages as he suddenly heard his half rothers voice again 'Dude, if I say you have to hold on to me, then hold on to me.'. Hannes sights, his fore head was killing him but he was too stupid and prideful to admit his nose and wounds wheren't the only thing that hurt "You know, this floor is actually pretty nice, it's definnetly stone" he said still not able to move one of his jaws, he would say everything to not have to stand up again, without having to admit that his headache hurt more than his face right now. he was basically ruining the hospital floor though "Why doesn't the school have a floor like this? cause that floor suck" he said without meaning it ...
_________________